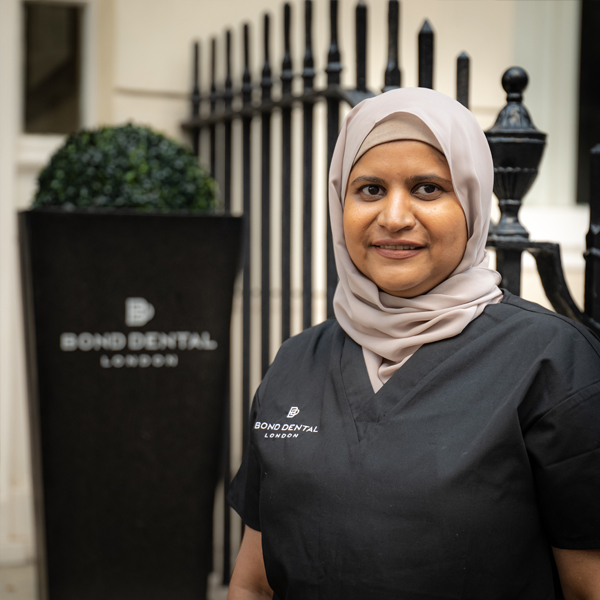 Dr Sofia Ahmed
Consultant Orthodontist Specialist
GDC No.72248
Sofia graduated with a 1st Class Honours intercalated BSc and BDS with Distinction in Orthodontics and Paediatric Dentistry from Kings College Dental Hospital, London.
 After completing House Officer and Senior House officer posts in Oral Surgery and Paediatric Dentistry she started her Specialist Orthodontic training at Kings College Dental Hospital London and St George's Hospital London.
On completion of specialist training she obtained an MSc in Orthodontics with Distinction and her MOrth from the Royal College of Surgeons of England.
Sofia continued onto higher Orthodontic training at the Queen Victoria Hospital, East Grinstead and Guy's and St Thomas' Hospital London, completing her Intercollegiate Fellowship Examination in Orthodontics.
She took up her first Consultant position at the John Radcliffe Hospital, Oxford and Stoke Mandeville Hospital.
She is now Consultant Orthodontist at Guy's and St Thomas Hospital, London and the Queen Victoria Hospital, East Grinstead.
Sofia is involved in Dental Education and has co-authored an Orthodontic text "Clinical Cases in Orthodontics" published by Wiley-Blackwell
She is a trainer for Orthodontists, and has examined for MJDF for the Royal College of Surgeons of England and for both the MSc in Orthodontics for Kings College London, and the Conjoint MOrth Examination for The Royal College of Surgeons of Edinburgh and Kings College London.
 Sofia has broad experience treating children and adults with the full range of orthodontic appliances: functional appliances, fixed appliances ( conventional labial metal or clear ( on the outside of your teeth ), or lingual appliances (hidden behind your teeth ), and Invisalign aligners.
She enjoys working closely with Dental and Maxillofacial colleagues and in her Consultant roles works as part of Hypodontia (Missing teeth) multidisciplinary Teams, and an Orthognathic (Orthodontic and Jaw Surgery ) Multidisciplinary Team. Sofia also has experience of working with respiratory physicians and provides mandibular advancement splints for patients with sleep apnoe.
At Bond Dental Sofia will tailor your treatment options and appliance options to address your concerns about your teeth and fit in with your lifestyle.